As a new school year begins this month, many college students are faced with taking out loans to cover their tuition and room and board expenses.  Many of these students have no idea of the long-term consequences of these loans and what the payments translate to after they graduate.  It can often mean postponing buying their first home, getting married, and saving for their retirement.
The statistics regarding student loan debt are shocking, at best.  Among 2018 graduating college students, 69% took out student loans and left school with an average of $29,800 in debt.  Recent reports tally 44.7 million Americans have student loan debt totaling $1.56 trillion.  This surpasses the total U.S. credit card debt by $521 billion.  The average monthly student loan payment is $393.¹  There is no shortage of articles on this growing problem.
This trend in mounting student loan debt is expected to escalate and could quickly become the next financial crisis.  Tuition costs are increasing faster than inflation and the rise in wages.  In 2018, the inflation rate was 2.44% and wages increased 3.1%, on average.  But, between 2000 and 2019, tuition has risen an average of 5.13% per year.²  At these rising rates, students need to look long and hard at their options, weighing different colleges and even degree programs to see what the payoff will really be.
With the average cost of tuition, fees, room and board at approximately $25,290 per year for an in-state public school, students would benefit from doing some forward thinking.³  Just having a good understanding of the total amount in loans they will need and what their expected salaries might be post-graduation, would help them get a picture of how much of that salary will go to loan repayments vs. how much is left for living expenses.  It might be a wake-up call for many that they will not live the lifestyle they enjoyed while living at home with their parents.
To break down their paychecks for those college grads entering the workforce, here is a quick analysis comparing the starting salary of a computer engineer to the starting salary of a teacher: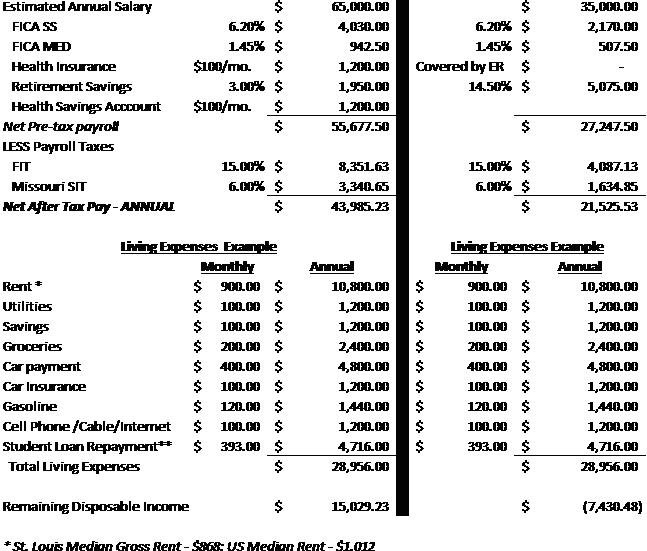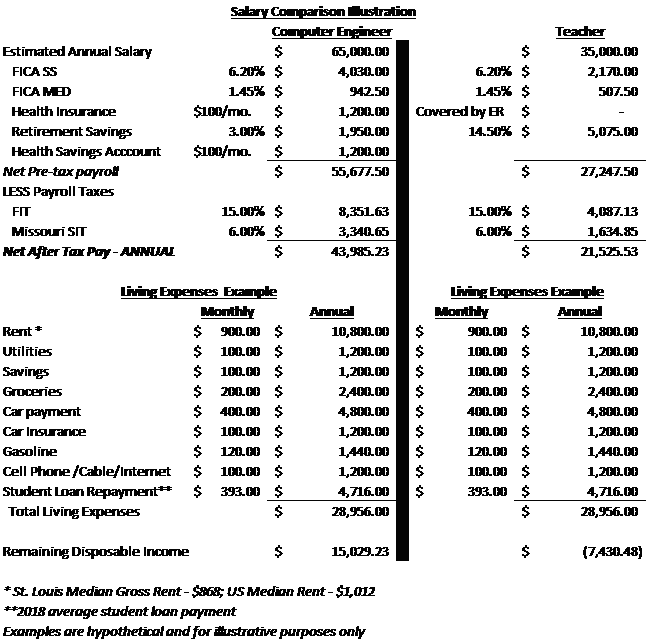 As you can see in this hypothetical comparison, that gross annual salary is quickly reduced from various withholdings.  The remaining net after-tax pay is further diminished with necessities.  In the case of the starting teacher's salary, they are required to contribute to their pension plan and we find there isn't enough money to cover monthly expenses, let alone pay back the student loan.  This is often the shocking reality that recent graduates face.
This article isn't meant to discourage students from pursuing a college degree.  Having a college education will significantly increase your lifetime earnings compared to those with only a high school diploma.  This is simply meant to encourage all college-bound students to do their homework and head off to college with your eyes wide open.  Scholarships, tuition costs, and degree programs should all be weighed when deciding what college to attend.  Ultimately, minimizing the size of your student loans may help you more quickly achieve your personal goals and put you on the path toward financial success.
¹  https://Studentloanhero.com/student-loan-debt-statistics/
² https://www.shrm.org/resourcesandtools/hr-topics/compensation/pages/2019-salary-budgets-inch-upward.aspx
³ https://www.valuepenguin.com/student-loans/average-cost-of-college