Annual Enrollment Period Begins
If you are turning 65 this year, becoming eligible for Medicare, or eligible for a Special Election Period, please click on the Request a Call button and a licensed agent/broker will contact you.
Are You Eligible for Medicare?
IEP, or "Initial Enrollment Period" for Medicare, is a window of time provided by Centers of Medicare and Medicaid Services (CMS) to shepherd qualifying individuals safely into Medicare. If you're a U.S. citizen or you meet the lawful presence and residency requirements, the Initial Enrollment Period (IEP) is your first chance to sign up for Medicare. During the 7-month period that starts 3 months before the month you turn 65, includes the month you turn 65, and ends 3 months after the month you turn 65. Your coverage will begin the first day of the month after you ask to join a plan. If you join during one of the 3 months before you turn 65, your coverage will begin the first day of the month you turn 65.
Example:
Your birthday is May 9th. You can enroll in February, March, April as the three months prior to your birthday month, in May since that is your birthday month, or in June, July, August for the three months after the month you are eligible. If your birthday falls on the first of the month, you will be able to start Medicare Coverage on the first of the previous month.
Example:
Your birthday is on May 1st. You can enroll in January, February, or March as the first three months, in April since that would be considered the month your Medicare coverage can begin, and then May, June, and July for the three months after the month you are eligible.
You may also be able to enroll if you are under 65 because you have a disability or special condition.
IEP offers an enrollment session to join phases A, B, C and D of the Medicare program.
Part A is Hospital Coverage
Part B is Medical Coverage
Part C describes enrolling in a Medicare Advantage Plan (MAPD)
Part D describes enrolling in some form of Medicare Prescription drug coverage.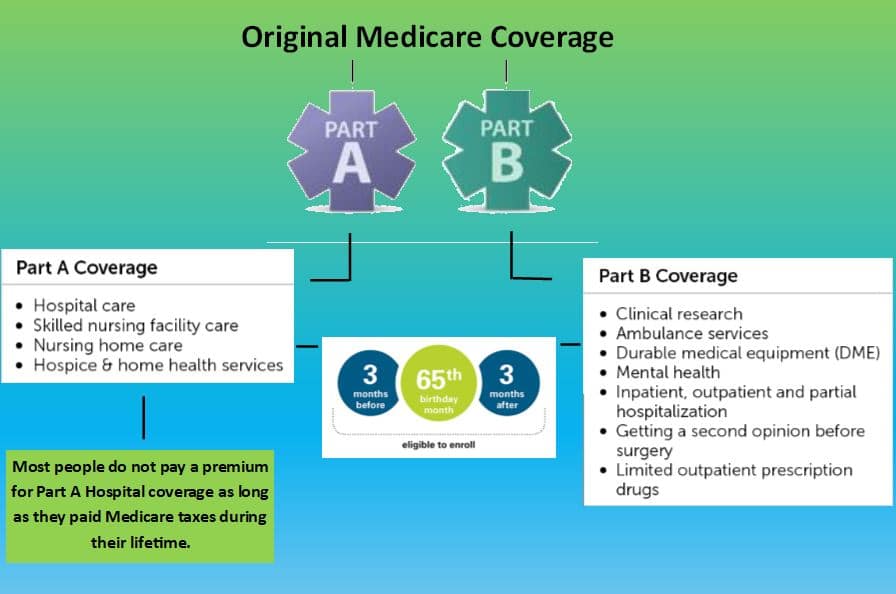 Upon reaching the retirement age of 65 years, if you are already receiving Social Security benefits, you will be automatically signed on to Parts A & B of Medicare. If you are not drawing Social Security, you will have to sign up for Parts A & B when you are eligible.
Medicare Supplements or Medigap Policies
Medicare Supplement Insurance, also referred to as Medigap, is a policy that is offered and sold by private insurance companies which can help in the payment of some of your medical bills that may not be covered by Medicare itself. For instance, when you travel overseas, your original Medicare may not cover your bill, but some Supplemental Plans have some coverage for instance a deductible, co-insurance and then a lifetime maximum. Medigap can only supplement your original Medicare plan; hence, if Medicare does not approve or cover a procedure, it will not be covered by your Supplement Plan. To get a Medigap plan, you must have the original Medicare Parts A and B, and you must pay a private Medicare Supplemental Plan Provider specified monthly premiums.
*None of the above companies are connected with or endorsed by the United States government or the federal Medicare program.
Prescription Drug Plans
Medicare offers prescription drug coverage plans for everyone enrolled in the Medicare Program. When you first enroll into the Medicare program when you are eligible, you are expected to sign up with the Medicare Prescription Plan D. If you elect not to do so at that time, you will start incurring a 1% penalty of the national average drug plan. If you decide to join at a future date, that penalty will be calculated and then added on to your future drug plan every month for the rest of your life. You must join a drug plan run by an insurance provider or any other private plan which is approved by Medicare. There are two ways to join a Drug Prescription Plan:
Medicare Prescription Drug Plan (Part D)—This is the original Medicare Prescription Plan, also referred to as PDPs
Medicare Advantage Plan (Part C)—Through other Medicare Health Plans that come with a Prescription Drug Plan included as part of the package
Medicare Advantage Plans

Medicare Advantage Plans, often referred to as "Part C" or "MA/MAPD Plans," are offered by private companies. Such offering companies must be approved by Medicare. Joining a Medicare Advantage Plan still means you have Medicare. Your Medicare is subcontracted out to the private insurance companies. The government, through Medicare, pays a specific premium to companies offering the Medicare Advantage Plan. Your prescription drug coverage (Part D) is covered through most Medicare Advantage Plans (MAPDs). Some plans (MAs) may not come with the prescription drug coverage; in few instances, you can also join a Prescription Drug Plan, which still remains an option for you. It is important to know that you cannot have prescription coverage through both a Medicare Advantage Plan and a Prescription Drug Plan, though. In order to qualify for the Medicare Advantage plan, you must apply within the correct time period and you must meet the following criteria:
You must be enrolled in Medicare Parts A and B.
Your Medicare rights must apply to you.