Are you turning 65 or planning to retire this year?  Make sure you have all the information you need to make an informed decision and to avoid costly mistakes.  Check out the top three mistakes made when signing up for Medicare Parts A & B:
Signing up late: The Initial Enrollment Period (IEP) is the first time you can sign up for Medicare.  The IEP lasts for seven months.  The IEP is the three months before your birthday month, your birthday month is the fourth month, and then three months after your birthday month.  If you fail to sign up during this period and do not have other credible coverage, your monthly premium may go up 10% for each 12-month period you could've had Part B but didn't sign up. In most cases, you'll have to pay this penalty each time you pay your premiums, for as long as you have Part B, and the penalty increases the longer you go without Part B coverage.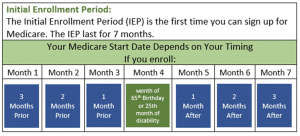 You sign up for Medicare Parts A & B when you are still working and do not need this for employer coverage: Some people have expressed that they want to be safe rather than be sorry, so they sign up for Parts A & B to avoid the late enrollment penalty even though they have credible employer coverage.  This is not a fiscally sound decision.  You will be paying the monthly $170.10 Part B premium or more depending if you qualify for an Income Related Monthly Adjustment Amount (IRMAA) based on your income reported on IRS tax returns from two years prior.  This could add up to thousands of dollars!
You sign up for Medicare Part A only but participate in a health savings account (HSA) at work: If you are a member of an employer health plan that includes a HSA and you sign up for Medicare Part A or Parts A & B, you will no longer be eligible to make contributions to your HSA plan.   Moreover, you may have then over contributed to your HSA for the year.   The typical rule of thumb is to stop contributing to your HSA six months prior to enrolling in Medicare.
Avoid these costly mistakes by checking out our Medicare FAQs section on Hovis&Associates.com, scheduling an appointment for a free* consultation to discuss your situation, or attending one of our Medicare Made Simple seminars:
Wednesday, February 2nd, 2022, at 6:00 PM at our St. Louis location
Tuesday, February 22nd, 2022, at 6:00 PM at our Festus location
RSVP to Lori McKee by calling (636) 937-4343 or emailing lorimckee@hovisandassociates.com.  Make sure you tell her the date and location you would like to attend.
As you can see, it is important to stay on top of the Medicare dos and don'ts when signing up for Parts A & B.  At Hovis & Associates, we are contracted with all the major players so call today at (800) 411-0737.  We make the complicated SIMPLE!
*This agent may be compensated by the insurance carrier based on your plan enrollment.
#WeAreHovis #MedicareMadeSimple