SEP, LEC, PDP, MA, MAPD, CMS, IEP, ICEP…Medicare has a lot of acronyms, and it's hard to keep them all straight. At Hovis & Associates, we make the complicated SIMPLE, so we compiled the most commonly used acronyms in a handy list to help you make heads or tails of Medicare lingo.  
ACRONYM 

NAME 

CMS 

Centers of Medicare & Medicaid Service

s

 

SS 

Social Security 

IEP 

Initial Enrollment Period 

ICEP 

Initial Coverage Election Period

 

MA 

Medicare Advantage 

MAPD 

Medicare Advantage Prescription Drug 

PDP 

Prescription Drug Plan 

AEP 

Annual Enrollment Period 

OEP 

Open Enrollment Period 

SEP 

Special Election Period 

SEP-LEC 

Loss of Employer Coverage 

SEP-MDE 

Medicare/Medicaid Dual Enrollment 

SEP-MOV 

Moved outside service area 

SEP-SNP 

Special Needs Plan 

SEP-DST 

Health Disaster 
At the start of each Medicare consultation, it is a good practice to confirm the potential enrollee's election period. An election code is a crucial part of the application, because using the incorrect election code can cause the application to be placed on hold; therefore, the enrollee will not have coverage at the start of the requested effective date. We understand how confusing election periods can be, so we created a flow chart to make it easier for you to know what election code to use and to prevent any delays with applications.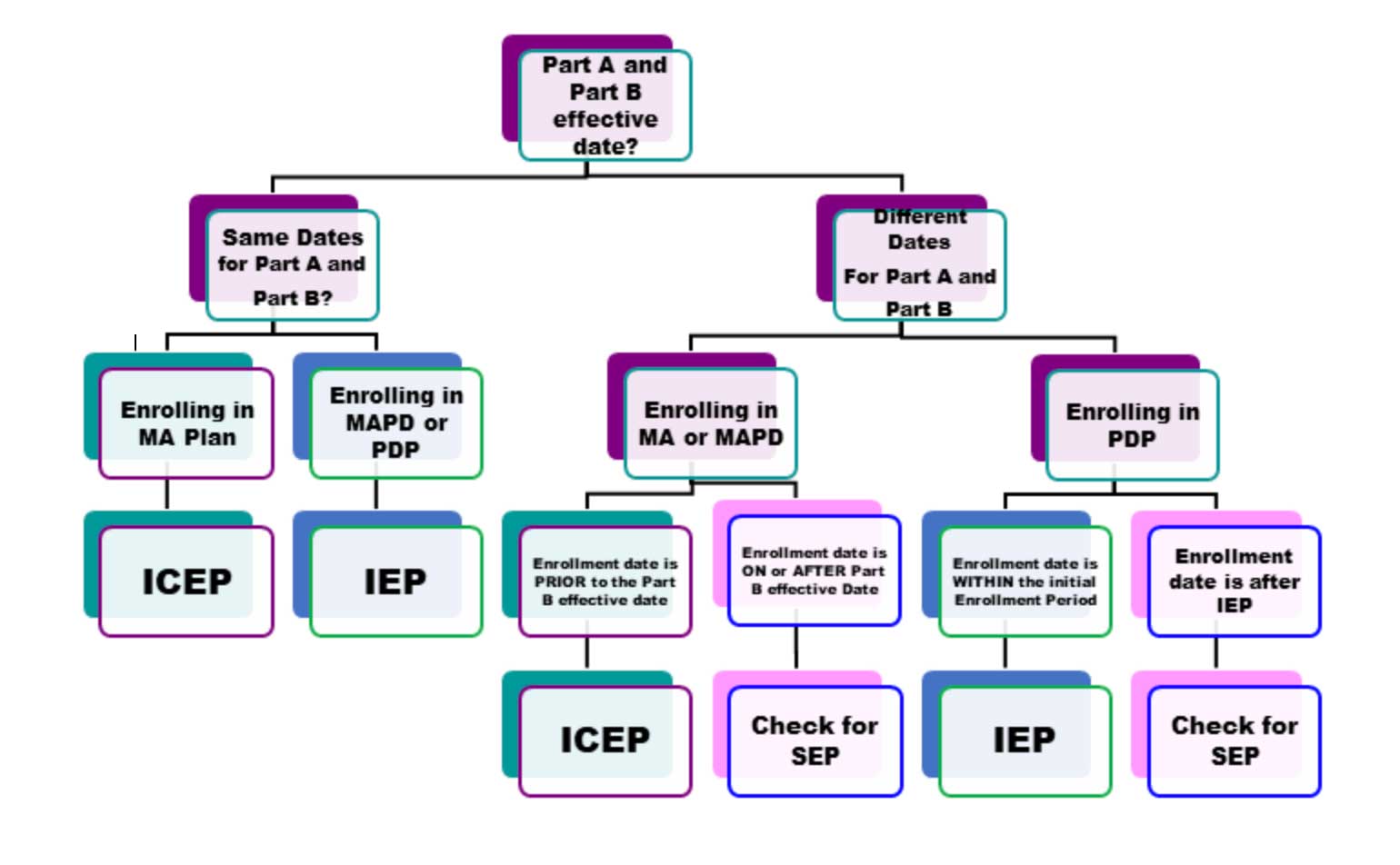 Does your current upline help you with Election Periods or Medicare lingo? Do you have unique Medicare cases where you are not sure if they are eligible for an SEP, ICEP or IEP, and have nowhere to turn to for help with your election period questions? Looking for a knowledge staff of people to help you with your difficult cases? Give us a call today at (888) 613-6196 or check us out on FB, LinkedIn and YouTube. We make the complicated SIMPLE!  
#WeAreHovis #MedicareAgent #HovisAgent